Exercise: Using Reference (1950s)
Sources: J.Legrand. (1988) Chronicle of the 20th Century. Paris. SA International Publishing.www.historytoday.com, wwwfashionera.com,
Transport
The 1950s was the golden age of public transport, in 1950 1 in 3 vehicles was a bus or a lorry. In the cities worn out trams were replaced by electric trolley buses and petrol buses which provided frequent services. The railways were nationalised with routes criss crossing the whole the country and plans to bring the steam era to an end. The motorway network was also modernised. Electronics and engineering had made great strides during the war and car sales were boosted with the end of petrol rationing in 1950. Few families could afford cars though, with many opting for the cheaper alternative of motorbike and sidecar. Bicycles were widely used both for commuting and recreation.
Sources: J.Legrand. (1988) Chronicle of the 20th Century. Paris. SA International, www.historytoday.com
The 1950s was a boom decade. The end of rationing in 1952; wartime advances in science and engineering; higher disposable incomes and 'out with the old and in with the new' in place of 'make do and mend' created a decade of consumerism which had a huge impact on its visual characteristics.
Advertising
The 1950s was the dream decade for advertising companies. People had more money to spend so advertising was big business. But by today's standards, the print advertising was mysogynistic, sexist, racist, politically incorrect and generally inappropriate!
Sexual images of women were used to entice men into buying cars, cigarettes and alcohol while gender stereotyping was encouraged through adverts depicting the perfect housewife using particular products. Women were portrayed as being weak and submissive with some adverts even contained images of physical abuse toward them for making mistakes with the shopping or cooking.
Adverts for drugs and cigarettes made outrageous claims about why they were 'good for you', even going as far as using pregnant women and babies in ad campaigns. They also weren't averse to fuelling self esteem issues over weight!
Visually, advertising differed from today in that it contained a lot more words. In many adverts there were great chunks of text explaining why the product was needed and what it could do for you. Today visual communication is used rather than text. (Sources: www.roundpeg.biz, adage.com, Pinterest)
Graphic Design
The 1950s was the era when graphic design superstars Paul Rand, Saul Bass, Max Bill and Milton Glaser started agencies and unveiled iconic logos." (Brant Wilson www.inspiredology.com). In contrast to the softly painted images of happy housewives, these designers were bringing something new and more cutting edge. Their designs were bolder in colour, used geometric shapes and were stylish in simplicity. The trend in fonts was sans serif which complemented the modern aesthetic.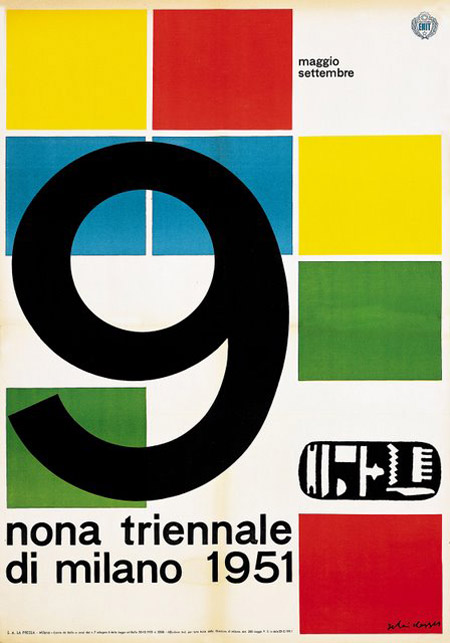 Bold colours, rectangles and sans serif font
Poster for TWA created by David Klein
Use of bright colours and geometric shapes give this a look that could be classed as contemporary now.
Poster created by saul bass for hitchcock's 1958 film vertigo
"From the 1950s and increasing number of graphic designers were drawn to the medium of the picture book. Designers were trained in drawing and typography (and in drawing type). Suddenly, books that showed a unified approach to concept, image and typography were appearing."Salisbury.M and Styles.M(2012)Children's Picture Books: The Art of Visual Storytelling. London.LaurenceKing.p.29 . This was a time when the relationship between words and pictures was becoming more thoroughly understood and conveyed. The image below from Antonio Frasconi's See and Say shows that the trend in design for advertising crossed over into picture book making, as did designers such as Paul Rand.
Miroslav Sasek was an authorial artist originally from Czechoslovakia who, inspired on a trip to Paris, created travel guides for children in the late 1950s and 1960s. The photos below are from This is Paris (1958) and This is London (1959). Note the sans serif font used for the text.
Art
The major movement in the 1950s was abstract expressionism with artists such as Peggy Guggenheim, Mondrian and Jackson Pollock being leading lights. Two areas formed within abstract expressionism, action painting and colour field painting. Action painting was all about the 'feel' when creating an artwork, Pollock and Franz Kline were two artists considered to be action painters. Artists such as Mark Rothko and Robert Motherwell were big names in colour field painting which, as its name suggests, was centred on colour.
The 1950s also paved the way for the pop art movement. "The main impetus of English pop came out of discussions, from 1952 onwards between writers like Alloway, John McHale, and the architectural critic Reyner Banham, and such artists such as Eduardo Paolozzi and Richard Hamilton. This group put on a pioneering exhibition at the London Institute of Contemporary Art (ICA) in 1956, called "This Is Tomorrow"- a quasi- anthropological, semi ironic, but wholly enthusiastic look at the mass imagery of the early electronic age."Hughes.R The Shock of the New: Art and the Century of Change (1980)London.BBC
TV
By the 1950s, television was more than a method of delivering information, with a major boom in its use coming with the live screening of the Queen's Coronation in 1953. Popular shows were swashbuckling period drama series such as Robin Hood and The Count of Monte Cristo, trivia shows and entertainment shows like Sunday Night at the London Palladium. Comedy such as Hancock's Half Hour was also popular. The latter part of the decade was heavily influenced by America with a rush of prize winning game shows and imported cop shows.
Film
In British cinema, the most popular genre of film was the British war film with two of the blockbusters of the decade being Bridge on the River Kwai and Dambusters. Comedy was also popular with Ealing Studios making films such as The Ladykillers and Lavender Hill Mob. Alec Guiness was a big star in the 1950s appearing in both war and comedy films. Rising comedy stars such as Peter Sellers and Norman Wisdom also appeared in the 1950s. Towards the end of the decade, Ealing comedies gave way to the rather less genteel and rather more absurd, early Carry On films. Hammer studios were making their lurid horror films with stars Peter Cushing and Christopher Lee starring in titles such as Dracula and The Curse of Frankenstein.
Across the Atlantic, 1950s film saw the rise of the anti hero with actors such as Paul Newman, Ava Gardner, Kim Novak and Marilyn Monroe. As anti heroes James Dean and Marlon Brando led the way in rebellion and juvenile delinquency in their respective films, Rebel Without a Cause (1955) and The Wild One (1954). Cinema was gearing itself more to a youth orientated market with rock and roll films such as the Glenn Millar Story in 1954 and Elvis' Rock Around the Clock and Love me Tender in 1956. Hoards of cheap teen movies were also made.
Fashion
Women
For women, the 1950s were all about a return to femininity with the hourglass figure being celebrated by British designers such as Christian Dior. Waists were cinched with girdles being a must have item. Petticoats were worn to create bouffant skirts. In contrast to the wide skirts were wiggle dresses and pencil skirts, although the waists were similarly tight. Waists became looser towards the end of the decade. Fabric was plain, or patterned with florals, spots, plaid and stripes. Colours were quite bright. Accessories such as gloves and bags were a must for a lady, as was a spiked umbrella. Hats weren't worn as much as in previous years for fear of ruining hairstyles. The beret and headscarves were popular though. At the beginning of the decade shoes had round toes with peephole toes. During the decade these gave way to the stiletto.
The mass market, ready to wear, clothing industry really took off with brands like Marks and Spencer especially popular. The small dressmaker virtually disappeared and middle class women made their own clothes from patterns. My illustrations (below right) show two different styles of dress and are created in the style of dressmaking patterns (below left). I used gouache because I wanted bright block colour and oil pastel for shadow.
Fashion was heavily influenced by film. Audrey Hepburn inspired capri pants, knitwear and flat ballet pumps were very popular and were great everyday items.
Men
This illustration by M. Sasek from his 1959 children's book, This is London perfectly sums up male clothing in the 1950s.
Men's dress didn't change much from work to leisure. Mostly they wore suits, although wearing a tie with a jumper or cardigan instead of jacket was common casual wear. Shoes were very important, often expensive and kept super shiny. Hats were also a must have accessory, as were pipes.
Teenagers
Before the 1950s, the term 'teenagers' didn't exist, there were children and youths. But in the fifties, these 'youths' were working and earning more money than ever before. They had their own places to hang out, their own music and could buy their own clothes. For the first time, they had their own fashion rather than wearing mini versions of adult wear. Influenced by stars such as Marlon Brando and James Dean, teenagers were adopting a 'rebel' look consisting of denim jeans, t shirts and leather jackets. Rock and Roll music inspired the Teddy Boy look. The sketches below show some of the teen fashion.
Sources: Legrand. J (1988) Chronicle of the 20th Century. Paris. SA International, www.catwalkyourself.com, Pinterest, www.fiftiesweb.com, www.thevintage news.com
Architecture and Housing
475,000 houses were destroyed or made inhabitable during the war which created a huge housing shortage. At the beginning of the decade many people were still living in slum conditions with no running water. To solve the problem, there were mass council house building projects with 2.5 millions homes built between 1946 and 1957. The trend in 1950s housing were flat roofs without chimneys, blocks of flats, inside bathrooms and plain brickwork. Due to the plain exterior, 1950s housing is widely regarded as being boring.
Open plan living was on trend in the 1950s, often with a minimalist style. Furniture was all about 'built in' and space saving innovations. Cabinets opened into writing desks, tables had extenders and televisions were often built in to the furniture. It was influenced by Scandinavian design which is defined by clean lines and working with a material's properties. The sketches below of 1950s furniture and lighting were made from photos in 50's Decorative Art by Charlotte and Peter Fiell.
Kitchens were built in with cabinets made from steel which was still in war production mode and therefore cheap. A 'space age' modern look with clean lines was popular. Functionality left little room for decoration. Kitchens were brightly coloured with laminate counter tops and linoleum floors.
Colour trends in 1950s interiors tended to fall into three categories:
Pastel - pink, blue, yellow
Scandi - brown, cream, grey
Modern - vibrant brights
Below I have explored 1950s fabrics and textile trends using paint and printing techniques. At the beginning of the decade, detailed pictorial designs were common followed by geometric and more graphic style images in the latter half. Hand printing and screen printing were the most common techniques for creating textiles.
Sources: 50's Decorative Art by Charlotte and Peter Fiell, www.bigchill.com, www.bbc.co.uk
Fashion and interior design are the areas that bear the most similarity to today. Capri pants, ballet pumps, stilettos, pencil skirts, duster coats and knitwear are still on trend. Mid century interiors are currently very fashionable, being revived as Mid Century Modern. I have a sideboard and sofa that would not have looked out of place in the 1950s. Scandinavian design is still hugely popular as are clean lines and built in kitchens. Lighting hardly seems to have changed either.
1950s Illustration
Using the references gained through my research, my task was to create an illustration of someone sitting in a chair surrounded by typical artefacts to give a teenager an idea of the 1950s. I started by drawing out some potential layouts. These drawings are below, they were copied from '50s Decorative Art' by Charlotte and Peter Fiell in order to practise my use of line and perspective.
My first thought was to set my illustration in a kitchen. During the 1950s it was quite common to have a dining table in the kitchen so I incorporated one into my sketches (below left). Once I had created one I was happy with, I photocopied it and tried out different colour combinations. Use of colour was quite bold in kitchens, with pink, blue, yellow and green being quite popular.

My next step was to add the seated figure. I knew from the start that I wanted my person to be a teenager because it would make the picture more relatable to a present day teenager. But as I started sketching thumbnails of figures to be seated in the kitchen, none of them had the slightly rebellious stance that I wanted to create. I wanted to convey the idea that this was the decade in which teenagers started to rebel, one in which they had their own identities rather than being mini versions of their parents.
Imagining my teenager lounging in a chair in the living room, I scribbled the sketch at the bottom left. This was much more what I had in mind so I changed my setting accordingly. My process from there is shown below.
The furniture, objects, clothes and colour were all chosen as a result of my research into the 1950s. I tried out different media and techniques in this illustration including: pencil, coloured pencil, watercolour, gouache, oil pastel and collage for the plant and magazine. If I was to complete the picture again, I would use a different colour blue for the sofa because this colour blends into the carpet to much. I'm also not sure the pencil drawing/shading of the coffee pot and jugs matches the style of the rest of the picture.